cpcStudio
software PLC / IDE platform
catalog

cpcStudio
software PLC / IDE platform

Download

---
cpcStudio is an integrated development environment that conforms to the IEC 61131-3 standard and contains cpcRuntime based on the Linux operating system. It can turn industrial computers into PLCs with real-time control capabilities, thus users are no longer restricted by the hardware of PLC manufacturers. Users can choose the hardware that best suits the requirements of the system project.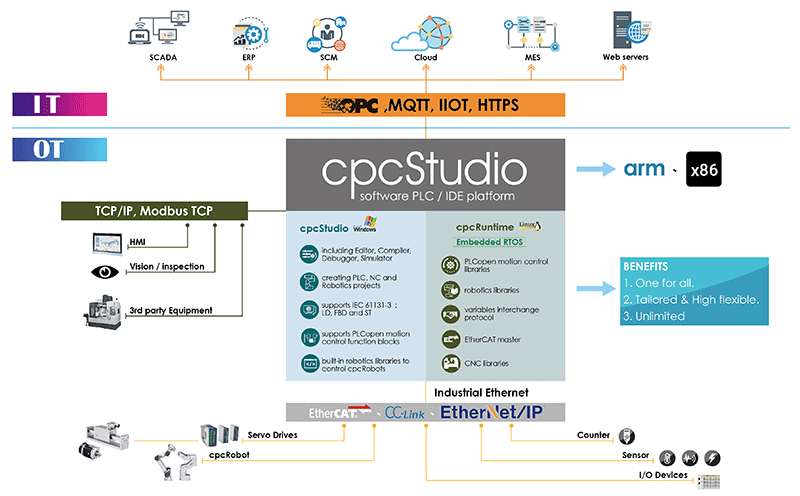 In addition to following the standard IEC 61131-3 programming language, it also has built-in PLCopen Motion Control Function Blocks. It provides high-precision motion control with continuous interpolation, and gantry command modules. Besides, there are other function blocks for special function extensions, and the libraries search engine manages the entire database. When integrated with cpcRobot, the user can control the system and robotic arm in their familiar PLC languages like ST or FBD.
With the increasing demand for factory automation and scale expansion, IT and OT convergence becomes a trend. In addition to its network system, cpcStudio allows users to use industrial communication protocols such as EtherCAT and Modbus TCP but also enables users to exchange data through Ethernet and send machine information to the data center. In the future, cpcStudio will also develop the OPC UA communication protocol to improve the interoperability with third-party software.
cpcStudio is responsible for the mechanical logic process of the entire PLC, so transportation, healthcare,
architecture, people's livelihood, industry, agriculture, and aquaculture are all uses. In the past, cpc products were used intensively in the industrial and medical sectors. Recently, it has been actively working with system integrators to expand applications such as packaging, handling, inspection, etching, panel displays, automated warehouse, and power engineering. In response to cost demands in different areas, cpcStudio also offers different levels of PLC function to meet customer expectations for cost performance.